exclusive 20-track free sampler
featuring artists from the
FiXT Store
including
Bit Riot Record
artists,
Be My Enemy
and
Common Man Down
. As a bonus, there is a
coupon code
for your next FiXT Store purchase in the ad.
OUTBURN
(issue 59) features a cover on
OF MICE & MEN
and interviews with
BLACK VEIL BRIDES
,
AUGUST BURNS RED
, and
BORN OF OSIRIS
, plus much, much more!
Spread the word, and
PICK UP A COPY
of the issue yourself today!
This full page ad includes a download code for a new and
Self Addiction
, the debut single from industrial-rock act
Common Man Down
will be released Febuarary 15th, 2011 via
Bit Riot Records
. The 7 song digital single focuses on the arrangement, hooks, and nasty sound design of the original gritty dance-floor track
Self Addiction
. This release is just a sample of whats to come from CMD, their full length
Self Bondage
will drop later this year.
Common Man Down vocalist, Jordan Davis hand-picked artists whose styles span across the electronic genre. Everyone chosen to remix, rearrange, destroy, and manipulate were chosen for their distinct vision and ability to take
Self Addiction
in a unique direction that promises to please multiple crowds. Artists include
Tom Napack
(Vanity Police/Dangerous Muse) with an old-school/lofi/industrial vibe, there's a dubstep/dance rendering from
Ryle
, an energetic approach from
Cyanotic
,
Orvtronixxx
with a dark-electro hit, and
Erektor
with noise-induced crushing mayhem.
Also included on the single is a minimal, stripped down, electro perspective of the song by Common Man Down called "
Relapse
".
Self Addiction
is set to be released on February 15th, 2011. Pre-order options are available now through Bit Riot Records at BitRiotMerch.com, including a discount on the single and a t-shirt purchase that gets you the single download in its entirety for FREE!
Common Man Down - Self Addiction T-Shirt (PRE ORDER)
Common Man Down - Self Addiction Single (Digital) (PRE ORDER)
The original
Self Addiction
is also available as part of the Bit Riot Records 2011 Free Digital Sampler.
http://www.bitriotmerch.com/page/6/Free-Music-Downloads

Common Man Down:
http://commonmandown.com
http://myspace.com/commonmandown
http://www.facebook.com/commonmandown
http://www.youtube.com/user/CommonManDown
Remix Artists:
http://www.dangerousmuse.com
http://www.myspace.com/wearr
http://www.cyanotic.com
http://www.djryle.com
http://web.me.com/orvillekline
http://www.bitriotmerch.com
P. James
sits down with Mr. Barry to discuss his method, his years of self-exploration, and the rising of his new wave.
Q: Regarding the album title, it's an extremely bold statement.

P. Barry: Yeah I know. You should see some of the emails and messages I got over the album title.
Read full interview
Here
.
http://www.bemyenemy.com
http://www.vampirefreaks.com/bemyenemy
http://vampirefreaks.com
Interviewer
EVERYTHING GOES COLD
have returned to once more vomit the soulless, hateful noise that they call music upon cities all across the United States. And also Canada.
Desperately clinging to the cuffs of the increasingly gnarled slacks of the much more popular and palatable bands
AESTHETIC PERFECTION
and
FADERHEAD
,
EGC
will bring their magical gift of song to the following locales:
* 4/23/11 Phoenix, AZ
* 4/25/11 San Antonio, TX
* 4/26/11 Austin, TX
* 4/27/11 Dallas, TX
* 4/28/11 New Orleans, LA
* 4/29/11 Atlanta, GA
* 4/30/11 Cincinatti, OH
* 5/01/11 Pittsburgh, PA
* 5/02/11 Columbus, OH
* 5/03/11 Rochester, NY
* 5/05/11 Washington, DC
* 5/06/11 New York, NY
* 5/07/11 Philadelphia, PA
* 5/19/11 Montreal, QC (Festival Kinetik)* (Note that EGC will not appear at the 4/22/11 show at Das Bunker in Los Angeles, because they will be drunk.)
Venues to be announced soon. Show up early to join us in our horrifying descent in to madness and expired meat products.
It'll be totally boss.
For more information:
http://www.bitriotrecords.com
http://www.everythinggoescold.com
http://www.aesthetic-perfection.net
http://www.faderhead.com
With the power of six thousand tiny dogs gnawing feverishly at your shins while you drag the desiccated corpse of your once vibrant tap-dancing career out behind the old dumpster to shoot it repeatedly until it finally stops squirming,
Use code "
NEWYEAR11
" at checkout on all orders through January 2nd and get
35% OFF
your entire purchase at
http://www.bitriotmerch.com
.
Happy New Year from Bit Riot Records!
Here's a listing of the first wave of dates:
Bit Riot Records artist and Electro-rocker
Everything Goes Cold
are terrified to announce the availability of their first new song since "
vs. General Failure
", available exclusively with merchandise purchase from
Combichrist
on their upcoming tour with our comrades
Aesthetic Perfection
and
Ivardensphere
(and sometimes
God Module
), starting November 3!
COMBI-ICED
features the greatest song ever created by anthropomorphic appliances still dressed in fuzzy animal costumes for Halloween a week after all of your pumpkins have been smashed:
THE IRON FIST OF JUST DESTRUCTION.
Featuring guest vocals by
Britanny Bindrim
of
I:Scintilla
, this song will be the first look at "
The Tyrant Sun EP
", the next release from EGC, and the final step in your grim, grim descent in to madness and despair.
Find your exclusive download code on the
COMBI-ICED
card in your merch bag, with a new label sampler from our dark overlords,
BIT RIOT RECORDS
, on the other side. Then go drink until you can't see your own face after it has been torn from your skull and presented to you on a delightful holiday platter.
COMBICHRIST - MONSTERS ON TOUR
Wed, November 03 -
New Orleans, LA
@
Howlin Wolf
Thurs, November 04 -
Austin, TX
@
Elysium
Sat, November 06 -
Scottsdale, AZ
@
The Venue Of Scottsdale
Sun, November 07 -
Los Angeles, CA
@
The Music Box
Mon, November 08 -
San Francisco, CA
@
Slims
Wed, November 10 -
Portland, OR
@
The Wonder Ballroom
Thurs, November 11 -
Seattle, WA
@
El Corazon
Sat, November 13 -
Denver, CO
@
The Gothic Theater
Mon, November 15 -
Minneapolis, MN
@
The Cabooze
Tues, November 16 -
Chicago, IL
@
The Bottom Lounge
Wed, November 17 -
Toronto, ON
@
Phoenix Concert Theatre
Thurs, November 18 -
Ithaca, NY
@
The Haunt
Fri, November 19 -
Hartford, CT
@
Webster Theater
Sat, November 20 -
Pittsburgh, PA
@
Mr Smalls Theatre
Sun, November 21 -
Philadelphia, PA
@
The Starlight Ballroom
Mon, November 22 -
Washington DC
@
Fur Nightclub
Wed, November 24 -
Atlanta, GA
@
The Masquerade
For more information:
http://www.bitriotrecords.com
http://www.everythinggoescold.com
http://www.combichrist.com
FROM DEEP IN THE SIBERIAN TUNDRA -
EVERYTHING GOES COLD
have just been added to the bill for 2011's
FESTIVAL KINETIK
in Montreal.
Joining the ranks of clearly less important bands like
Aesthetic Perfection
,
And One
,
The Klinik
, and
KMFDM
,
EGC
will undoubtedly feel right at home in the barren wastelands of darkest Canada while the other bands huddle together around Steve Naghavi's undeniable charisma and unbridled sexuality for warmth. Industrial musicians, DJs, and fans from all over the world will slowly succumb to dread as toe after toe is lost to the grim specter of frostbite. Meanwhile,
Everything Goes Cold
will be in the hotel's unheated swimming pool, eating ice cream and listening to Vanilla Ice.
You can come hang out with us there if you want, but you should bring beer or something.
To summarize, in the words of a great man (well, DarkNES from the Gothsicles): "
HOLY SHIT. We're playing Kinetik. That doesn't rhyme.
"
http://www.festival-kinetik.net
http://www.everythinggoescold.com
HELSINKI- Bavarian pretzel-fighters
COVENANT
comes to New Orleans, in what is sure to be a night that no one will forget!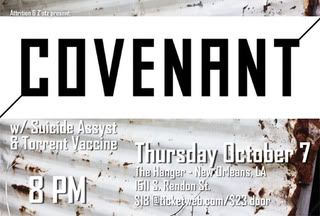 Opening acts will feature Louisiana's own
Suicide Assyst
, followed by
Torrent Vaccine
and DJ sets by
Nanashi
,
Sneauxball
and Saturnine!
Thursday OCT 7th 2010
The Hangar
1511 South Rendon
New Orleans, LA 70125
Phone: 504.638.1243
Advance tickets through ticketweb.com are $18
http://www.ticketweb.com/t3/sale/SaleEventDetail?dispatch=loadSelectionData&eventId=3188875
$23 at the door
18+
Doors at 8pm
Show at 9pm
Be sure not to miss this one!
An Attrition and Zotz Cafe Production
For the very first time,